English plus golf courses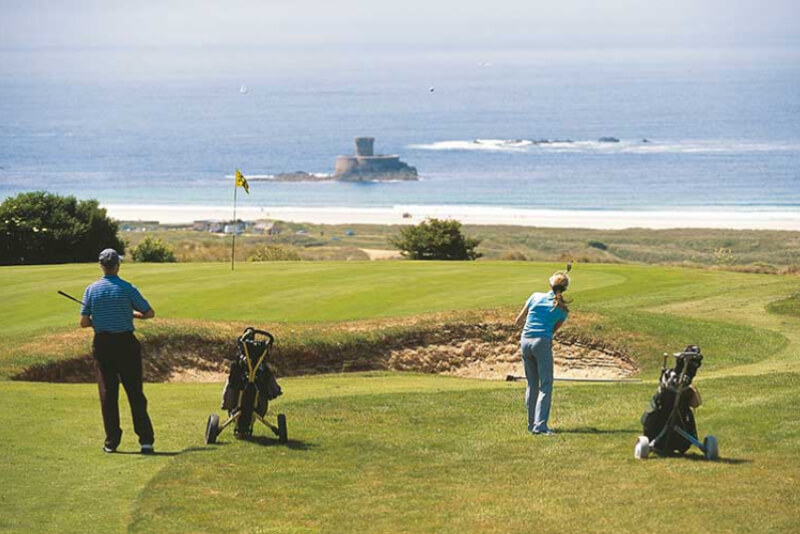 Learn English and discover Jersey's stunning golf courses
With six golf courses at impressive locations around the island, Jersey is an obvious choice for a keen golfer. You can enjoy some of these top courses, as well as improve your English on one of our English and golf programmes. Choose from one of our English courses and combine this with rounds of golf accompanied by one of our English teachers or golf lessons with a PGA professional (1.5, 3 or 6 hours per week) for the perfect balance of English and golf.
The PGA professional will focus on stance, grip & posture, swing fundamentals, putting, chipping & pitching, bunker shots and will take you around a 9 hole course. Alternatively, golf with an English teacher allows you to enjoy an afternoon round of 9 holes. Our teachers aren't qualified golfing professionals but you will enjoy a pleasant round of golf with them and will benefit from some new golfing vocabulary too!
English course facts
English lessons per week: Combine your choice of English course with afternoon golf sessions with an English teacher (9 holes) or PGA professional (1.5, 3 or 6 hours)
Maximum group size for golf: 1-3 students
Course duration: 1-4 weeks
Courses start: Every Monday, from 28th March – 28th October 2022
Minimum age: 18 years
Social programme: One or two afternoon excursions per week (depending on the course chosen) for courses of 1-3 weeks. Subsequent weeks do not include excursions. A weekly pub evening and dinner at a local restaurant or pub*.
* Additional costs apply